The stunning Mt Cook region is one of New Zealand's top attractions and our Tekapo base specialises in scenic flights over the region's spectacular alpine scenery.
One of the most breathtaking ways to make the most of your visit here is by taking a flight in one of our four-seater and six-seater turbine helicopters.
Our pilots provide you with an informative commentary about the area while you take in the spectacular views. You can also enjoy a landing which allows you to experience the beauty of the area up close. Choose your Scenic Flight departing Lake Tekapo below. Walk-ins welcome.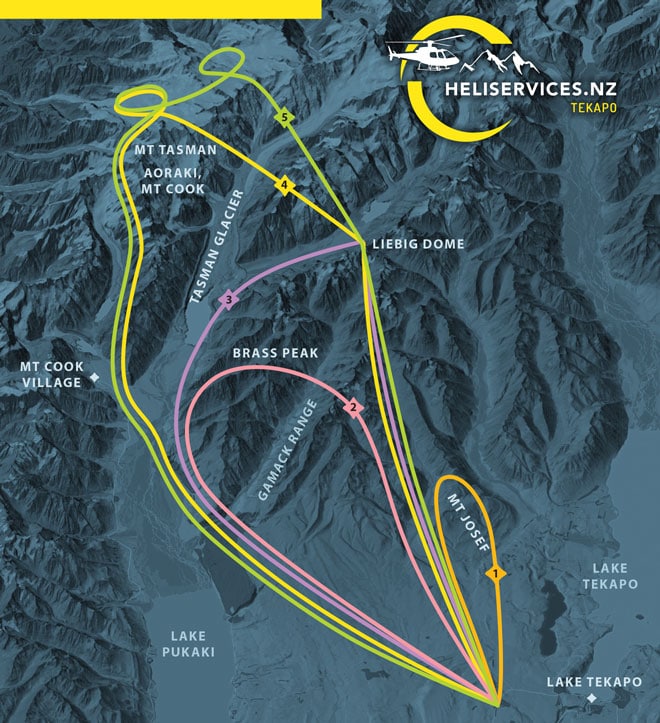 The Lake Takapo flight office
Our Lake Tekapo flight office is on the main street of the Lake Tekapo township right in the heart of the town. This is your first stop to check in for a flight or make a booking.
Our helipad is 5.2 km from Lake Tekapo on the left-hand side heading towards Twizel on State Highway 8. We provide a shuttle service from the booking office to the heliport.
Our base in the Lake Tekapo township is very close to Aoraki/Mt Cook – one of New Zealand's most impressive attractions and New Zealand's highest mountain. We offer flight packages from 20 minutes to one hour, or private exclusive charters across the magnificent Mackenzie Country, featuring the picturesque turquoise waters of Lake Pukaki and Lake Tekapo extending out below New Zealand's highest peaks.
Fly with us and you can see all the highlights of our region without all the extra driving to get to the Mt Cook Village.
Lake Tekapo flight office: +64 (0)3 680 6229
Summer (November-March)  8.00AM to 6.30PM
Winter (April-October) 8.30AM to 6.00PM. 
Please note: All standard flights include a snow landing but please note that such landings are subject to weather conditions and are at the pilot's discretion
Check-in time is 30 minutes before your scheduled departure time. This allows time for payment processing and aircraft allocation.
Flight duration is only approximate. Pricing is in New Zealand dollars and includes GST. Minimum numbers apply.
Awesome View Took the 60 minute flight and it was a trip of a lifetime, we had an amazing pilot called Brooke,... read more He was the best and so knowledgable about the area, the commentary was great and pointed out key things and showed us a great time!! Not to be missed for sure!!The ground staff where awesome as well and very professional and safe!

John W

24/05/18

Haast Heli Hunting adventure The best Chamois hunting trip I have been on to date. Scott put us in the perfect spot and our... read more guide couldn't have been more helpful. Stress free flight and two happy hunters with an animal each. Highly recommend flying with Haast heli.

Daniel Erena E

19/06/17

Amazing experience....and a view that needs to be seen to be believed! We spent one night in Franz Josef last week and thought that it would be more practical and less expensive... read more to see the Franz Josef glacier, by foot. We did some research on Trip Advisor and it soon became apparent to us that walking to it wouldn't be as good as flying over it. Our motel suggested Fox and Franz Josef Heliservices and rang them on our behalf to see if they had any seats available. Luck was on our side as well as the weather and there were seats available on a morning flight. From the moment we arrived, we were greeted by the friendly staff. Firstly Brad P was so friendly and helpful ensuring we understood the safety requirements and also helped us on and off the helicopter. Bill, our pilot, made us feel at ease immediately and provided lots of information during the flight, about the glacier. Being able to land on the top and take the most amazing photos was a highlight. If your tossing up whether to do the walk or the flight, don't think too long and do the flight! It was the most amazing experience that my husband and I have had the privilege to do. To see the most spectacular view so close up was a privilege we will never forget. Thanks to the team, we would highly recommend, absolute value for money. Jo and Wayne, Australia.

Jo-AnneD09

11/06/18

Great Grandson Experience Scott, and indeed all from Haast Heli, were extremely helpful when I wished for my 11 year Grandson to experience... read more his first helicopter flight, and first time in snow whilst on Queensland school holidays.Truly a wonderful experience for him, and one he is STILL taking about!Thank you.

Heather M

09/10/17

Amazing scenery and experience The trip was fantastic. Staff in the town office were very helpful and provide transport to the helipad. The helicopter... read more trip itself was fantastic, unbelievable views of Mt. Cook and the Tasman Glacier. The pilot was really informative and ensured it was an amazing trip.

Michael T

11/04/18

Loved it What an amazing experience the guys at Tekapo helicopters gave us. From start to finish it was of the utmost... read more professionalism. The views were absolutely stunning also. I can highly recommend a flight .

LennyBlakemore

13/04/18

Family trip Took the mount cook 40 minute heli trip with my family and we had an incredible time. A few of... read more us are not great flyers but our pilot Bill was just great. A really calming, patient and knowledgable guide. Highly recommend doing the 40 minute tour, although it's a bit more expensive it was worth every penny. Absolutely breathtaking views. We did a morning flight as recommended and it was really lovely and clear. 10/10

Inspire826292

18/10/18

Amazing experience not to be missed! Me and my wife drove all the way to franz Josef purely for this helicopter ride and snow landing, and... read more it was totally worth every penny! The view and scenery was totally worth it! ALTHOUGH sometimes they require a minimum number of people to fly even if you have already booked the tour, so we were glad that someonelse joined in the last minute so we were able to fly. I recommend checking that with them before you confirm.

Ashraf F

29/04/18

Amazing & Stunning It was really amazing trip that I ever joined! The views were stunning! Definitely will bring more families & friends... read more to try! Highly recommended to everyone!

Katherine K

27/09/18